Patent Law Seminars: Washington, D.C. (Fall 2017)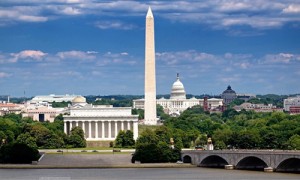 The Chisum Patent Academy will hold its Advanced Patent Law Seminars in Fall 2017 [dates TBD] in our newest seminar location, Washington, D.C. The D.C. seminars offer a two-day format to accommodate the schedules of time-pressed litigators and other patent law professionals. Because attendance is limited to ten persons, you may wish to email us at info@chisum.com to confirm the availability of seats before registering.
Washington, D.C. Location:
Our Washington, D.C. seminar will be held at the office of
Kaye Scholer LLP
The McPherson Building
901 Fifteenth Street, NW
Washington, DC 20005-2327
United States
Kay Scholer's office is conveniently located in the heart of downtown D.C., steps from the McPherson Square Metro Station, the U.S. Court of Appeals for the Federal Circuit, and the White House.
Seminar Coverage:
The Syllabus for our Fall 2017 seminars is currently under construction, because we update the syllabus for every seminar in order to cover the most significant and timely Federal Circuit and Supreme Court patent law developments. We cover a wide range of patent prosecution and litigation topics. To view the syllabus from our most recent (September and October 2016) seminars in D.C., click here.
"Obviousness Rejections and Challenges in the Inter Partes Review Era" will be a primary focus of the 2016 D.C. seminars. We will explore, in depth, how this cornerstone patentability standard is playing out on the PTAB stage–and on appeal at the Federal Circuit. What types of evidence and argument gain traction? What are the procedural traps? We will analyze specific cases from the rapidly growing body of Federal Circuit precedent in appeals brought by both patent owners and petitioners from PTAB IPR decisions. We will also use selected recent Federal Circuit cases involving jury and bench trial decisions on obviousness to assess a critical question: is the theoretically uniform standard of obviousness in fact operatively different in the IPR and federal district court contexts?
The seminars will also consider the ramifications of the Supreme Court June 2016 decision in Cuozzo v. Lee. In a major victory for the USPTO, the Court upheld (1) the PTAB's use of the controversial "broadest reasonable construction" rule in IPR claim constructions; and (2) the non-appealability of IPR institution decisions.
As customary, the seminar will also explore recent and pending "blockbuster" decisions by the en banc Federal Circuit and the Supreme Court on other patent law topics, including willful infringement (Halo and Stryker) (Supreme Court decision June 13, 2016), design patent damages (Samsung v. Apple) (cert. granted Mar. 21, 2016); the "on sale" bar (The Medicines Company) (Federal Circuit en banc decision July 11, 2016), exhaustion (Lexmark Int'l) (Fed. Cir. Feb. 2016) (en banc), and the laches defense (SCA Hygiene) (Fed. Cir. en banc decision Nov. 2015) (cert. granted May 2, 2016).
We'll also explore the latest section 101 developments on patent-eligibility, including McRO v. Bandai Namco (Fed. Cir. Sept. 13, 2016).
MCLE Credit:
The Chisum Patent Academy applies for CLE accreditation in those states where we conduct seminars.The D.C. Bar does not provide CLE accreditation for organizations' courses or events. Since the D.C. Bar does not have mandatory CLE requirements at this time, there is no CLE accreditation body. The Bar does not certify CLE providers or keep records of members' attendance at other providers' CLE courses. While the D.C. Bar requires members to maintain their legal competence, it does not specify how they must do so and does not require that attorneys submit attendance documentation from any courses they attend. For more information, contact the D.C. Bar's Continuing Legal Education Program at 202-626-3488.
MCLE credit for other states: The Chisum Patent Academy applies for CLE accreditation in those states where we conduct seminars. Where state bars require, we submit attendees' names as they are listed on the sign-in sheet that we will maintain at each seminar. If you are seeking CLE credit for a state other than where that seminar is being held, please apply directly to the appropriate state bar. We are happy to provide any necessary documentation required for your application (syllabus, materials, faculty bios, etc).
Schedule:
Our two-day Patent Law Seminars run from 9 am to 12 noon and 1 pm to 4 pm each day, for a total of 12 seminar hours. We provide complimentary continental breakfast starting at 8:30 am each day. Lunch (from 12-1 pm) is on your own.
Our unique seminars are limited to ten (10) attendees. To maximize opportunities for discussion and questioning, we conduct the seminars in interactive, informal, round-table style. All sessions are co-taught by patent law treatise authors and educators Donald Chisum and Janice Mueller.
Fee:
The registration fee for the two-day Washington, D.C. September/October 2016 seminars is $1,500 per person, which includes all course materials, complimentary continental breakfast, and afternoon snacks.